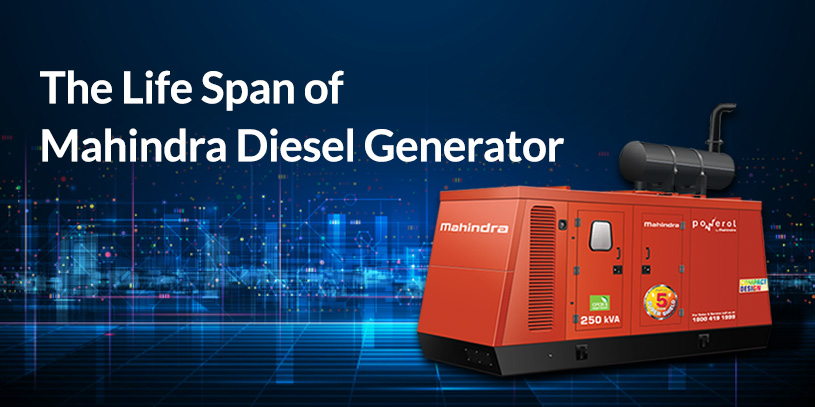 When you buy a diesel generator you want to see the life expectancy of the diesel generator. Industries & businesses with much-needed electricity are highly invested in diesel generators. Because businessmen Know in this modern world without diesel generators it will be a complete tragedy. It's good to have a backup generator for your business but want to consider life expectancy and whether the generator is branded and durable. Mainly the maintenance of diesel generators is important, If you buy any machines without maintenance it will be worse.
If a business wants to run means you need a diesel generator, especially during a power shortage. So the Diesel generator plays an important role in the industry during power cuts and always considers Life expectancy.
Most Important factors.
There are two main factors that you want to consider in generator life expectancy.
Consider the diesel generator quality, brand, and size of the engine because these are the main factors that contribute to diesel generator lifespan.
Sizing of the Diesel Generator
When talking about diesel generator lifespan, size is a matter to consider
. There is no doubt about the life span when you use 90% of generator load capacity. Always Be sure that the diesel generator will permanently receive good combustion pressure to hold its piston rings in position. A small generator with a bigger load size can affect life expectancy. So this is the factor that can affect life span and always go for a high kVA Diesel generator for your business.
Maintenance Practices
A well-maintained Diesel generator will have more life expectancy than a badly maintained diesel generator. If your diesel generator is working for many hours you want to maintain the generator frequently.
Power shortages can happen at any time. Remember the Diesel generator must be well maintained, don't wait for a power shortage to drive the generator.
Complete maintenance of the generator concerns oil and air filters frequently. Check the generator sound, smoke, and fuel efficiency to generator life.
General Life Expectancy
The run time of a diesel generator can last 15,000 hours and 50,000 hours and selecting the branded generator can satisfy your needs. The life span of any particular generator depends upon the maintenance and sizing.
The life expectancy may also depend upon the running hours of the diesel generator.
For Example, If the generator keeps on running for 750 hours in a year it can also work for a maximum of 25 years with excellent maintenance. For the Best care, you want to choose the best generator dealers or generator repairing experts.
Understanding your Generator
A Well maintained diesel generator never worries about life expectancy. When a power shortage occurs or not the generator is very important for the business. Use the Diesel generator regularly and maintain it frequently. Life expectancy will automatically improve.
So this is the life expectancy of a diesel generator for better maintenance visit pioneergenerator.